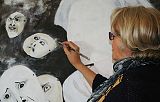 Lesley Taylor
Macksville, Australia
In Gallery
More artworks by this artist
STYLE
Impressionism, Modern
When you see a Jacaranda in full bloom, look into its heart and you will see … If you live in the UK or anywhere in Europe, you probably don't know what a Jacaranda tree is. It is a tree with glorious purple blossoms in Spring. The world-renowned Jacaranda Festival is held annually in Grafton, Northern Rivers New South Wales, from the last weekend in October to the first weekend in November. November in Sydney is jacaranda season. As the trees flower from Paddington to Lavender Bay and beyond, the light seems to change, become bluer – at once softer and more hard-edged. Seen from the harbour or the land, no other blossoming has quite so transformative an effect on the city. 61 cm x 91.5 cm x 3 cm on a heavy duty artist stretcher 3kg.
Leave a comment
You must register or login
You must be logged in to like or follow. Please register or login to continue.