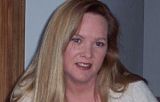 KJ Burk
Hartville, United States
More artworks by this artist
STYLE
Contemporary Art, Mixed Media, Modern
MEDIUM
Acrylic, Mixed media, Watercolor
"Among the Clouds" is an original 24"x36" heavily textured mixed media painting by KJ Burk on stretched canvas. This piece is currently on display at the Ozarks Art Gallery in Hartville, Missouri.
Leave a comment
You must register or login
You must be logged in to like or follow. Please register or login to continue.