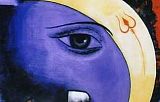 Kirtiraj Mhatre
Uran, India
More artworks by this artist
Certificate of authenticity
Yes
The artist has painted an image of a couple in his painting. The colors used by him while creating this painting symbolize passionate love, wildness, and supremacy.
Leave a comment
You must register or login
You must be logged in to like or follow. Please register or login to continue.