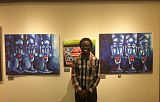 keita kankam
Edmonton, Canada
More artworks by this artist
light is colour and makes the world a beautiful place. The sun shines on every natural thing on earth. It helps us to see anywhere we go during the day. This is an expressionist painting depicting the sun .
Leave a comment
You must register or login
You must be logged in to follow. Please register or login to continue.