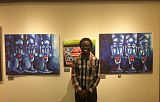 keita kankam
Edmonton, Canada
More artworks by this artist
Certificate of authenticity
Yes
Night birds. is an imagination abstracted painting that I created with the essences of giving the important significance to birds at night what they normally do and their busy schedule .
Leave a comment
You must register or login
You must be logged in to follow. Please register or login to continue.