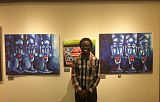 keita kankam
Edmonton, Canada
More artworks by this artist
Hope is the place you want to go, Its the feeling the carries you through difficult times. The substance of things we can not see. This is an abstract painting depicting lost fishes in the sea, even though they are lost , they have hope they will get to their final destination.
Leave a comment
You must register or login
You must be logged in to follow. Please register or login to continue.