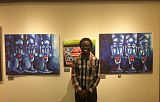 keita kankam
Edmonton, Canada
More artworks by this artist
Being silent is the greatest gift . As the saying goes silence is golden. Taking or finding some quality time to think or meditate helps to increase and enhance the quality of your imagination and creative instincts. This is an abstract figurative painting depicting a female figure deeply in thought.
Leave a comment
You must register or login
You must be logged in to follow. Please register or login to continue.