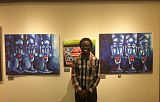 keita kankam
Edmonton, Canada
More artworks by this artist
Water is an essential commodity for everyone. Glass of water before starting your daily activities makes one brisk in his or her endeavours. Water is life and therefore we us humans must make it our habit to drink eight glass of water a day. This painting is depicting a glass of water.
Leave a comment
You must register or login
You must be logged in to follow. Please register or login to continue.