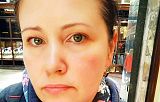 Katrina Avotina
Leeds, United Kingdom
More artworks by this artist
STYLE
Contemporary Art, Impressionism, Modern
Certificate of authenticity
Yes
The painting is 2 cm deep and can be hung without an additional frame, also all picture sides are painted. The painting is signed on front and on the back. A signed Certificate of Authenticity also included. Materials: Acrylic on Canvas. If you have any questions, please do not hesitate to contact me.
Leave a comment
You must register or login
You must be logged in to follow. Please register or login to continue.