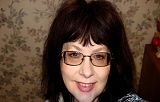 Katreen Queen
Melbourne, Australia
More artworks by this artist
All of us, children and adults, love and adore a very special part of Christmas. I am talking about magic Christmas holiday's lights. We wait for them a whole year. Colorful lights on a Christmas tree. Beautiful lights on a decorated streets. Candles lights that we light with our friends, family and loved ones during this season. All of them are an amazing Christmas lights. They warm up our frozen souls, they promise us peace, joy, fulfillment of our dreams and unconditional, sincere love. Amazing, magical, twinkling lights of Christmas invite us in a wonderful tomorrow, in which we all will be wiser, more tolerant and much stronger. We have to protect the magical lights of Christmas and they will protect us all in return.
Leave a comment
You must register or login
You must be logged in to like or follow. Please register or login to continue.