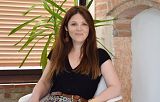 Julie Verhague
Toulouse, France
More artworks by this artist
Certificate of authenticity
Yes
La série "Fragments" a été imaginée comme une cohabitation d'éléments. Le vert y représente le vivant. Le blanc symbolise l'intervention humaine. Entremêlés, mélangés, juxtaposés, les fragments se parlent, se complètent, s'entrechoquent. Pour le meilleur et pour le pire.
Leave a comment
You must register or login
You must be logged in to follow. Please register or login to continue.