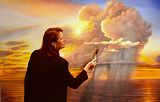 Julie Griffin
Fort Myers, United States
More artworks by this artist
STYLE
Hyperrealism, Photorealism
Certificate of authenticity
Yes
This is a framed 8x10 oil painting over a printed photgraph that can be reproduced at any size. I do this little fast paintings as studies. If you would like any of my paintings in different sizes from what I have posted, just contact me for a quote. I also can make you an original oil painting .
Leave a comment
You must register or login
You must be logged in to follow. Please register or login to continue.