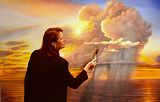 Julie Griffin
Fort Myers, United States
More artworks by this artist
Certificate of authenticity
Yes
Our sunsets are beautiful in South West Florida in general. This is a painting from a photo I took after a hurricane came through our area named "Charlie" in 2004. The storm was very scary but the clearing skies was beautiful.
Leave a comment
You must register or login
You must be logged in to follow. Please register or login to continue.