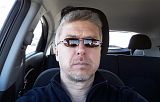 Juan Mildenberger
Montreal, Canada
More artworks by this artist
ORIGINAL painting. This is a real painting, not a print, poster or transfer. Signature: I personally sign and date on the back all of my paintings. This painting is also signed on the front. Thank you for your interest in my art!
Leave a comment
You must register or login
You must be logged in to like or follow. Please register or login to continue.