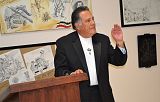 Jorge Delafuente
San Miguel de Allende, Mexico
More artworks by this artist
LARGE CANVAS MURAL, SHOWING STREET WORKERS OF THE PAST, SELLING MILK IN GLASS JARS, BREAD, SHOE REPAIR MAN, ICE MAN, BARBACUE SELLER, FLAGS SELLER, CANDIES SELLER, BALLONS SELLER, SHARPENING MAN , A CLOWN WITH HIS DOG ETC.
Leave a comment
You must register or login
You must be logged in to like or follow. Please register or login to continue.