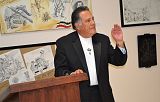 Jorge Delafuente
San Miguel de Allende, Mexico
More artworks by this artist
A CANVAS MURAL, SHOWING A GROUP OF PERSONS, THAT WE SEE IN CORNERS OF BIG CITIES SELLING FRUITS, FLOWERS, LOTTERY TICKETS, GARLIC., BEGGERS, MOUTH FLAME THROWERS,JUGGLERS, NEWS PAPER SELLERS ETC.
Leave a comment
You must register or login
You must be logged in to like or follow. Please register or login to continue.