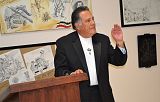 Jorge Delafuente
San Miguel de Allende, Mexico
More artworks by this artist
ACRYLIC ON CANVAS. SHOWING AN ARLEQUIN FLYIN THE KYTE OF LIFE. ON THE IRREGULAR THREAD, SEVERAL HUMAN FIGURES, ADVANCING SAVING AN EQUILIBRIUM, TOWARDS THE KITE. THE LAST FIGURE AT THE END OF THE LINE IT FELLS TO THE END OF LIFE.
Leave a comment
You must register or login
You must be logged in to like or follow. Please register or login to continue.