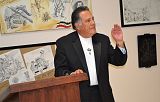 Jorge Delafuente
San Miguel de Allende, Mexico
More artworks by this artist
LARGE CANVAS. THE HAND OF THE ARTIST IS CHISILING AN STONE CREATING THE BODY OF A FEMALE. A TRANSPARENT CLOCK IS IN FRONT, MEANING THE TRANSPARENCY OF TIME, THE THREAD OF LIFE GOES AROUND TOWARDS THE LIGHT OF AN OPEN WINDOW.
Leave a comment
You must register or login
You must be logged in to like or follow. Please register or login to continue.