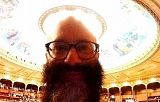 JORGE ELIA
Buenos Aires, Argentina
More artworks by this artist
Painting on non traditional surface. (Packaging, freight and export costs not included in the price.) http://jorge-elia.com/sanctumI.html - Review: leave an imprint, size is not the matter, but rather the testimony that is merited by your being there. Jorge Elía's intentional palette leaves one seduced by color, tempered by tones and sketches that allow us to make out the free expression of the line, anxious, temperamental, lively, and…in the verdant framework, underscores a figurative past, evoked by images assumed through color and line strokes. Recent works reveal themselves ever more tangibly and chromatically, seek to convoke, putting together cool tones and warm heights, as if in compensation for the exultant chromatics of his previous stance. The piece is a continent of lyrical expressions, the encompassing harmony that the image characterizes, protecting it in accordance with the chromatic rhythm, whose evolutionary process directs the purpose towards the aesthetic. In the plastic arts, walking the paths of learning brings one to other paths, the sum of experiences, happy moments, all of those emotions that comprise the magical adventure that is "living". Color-light-color, quality of a significant palette that deserves an additional lecture.
Leave a comment
You must register or login
You must be logged in to like or follow. Please register or login to continue.