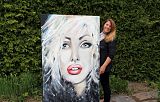 Johanne Hebert Coulombe
Chambly, Canada
More artworks by this artist
Certificate of authenticity
Yes
Les oeuvres que les artistes nous ont laissées à travers l'histoire sont un baume, en ce temps de crise, qui aident à calmer nos esprits, à solliciter en nous notre force intérieure et à nous rappeler que nous sommes profondément humains, et plus que jamais vivants. On a beau avoir des points de vue différents, nous avons tous en commun cet ennemi invisible qui sans le vouloir, nous offre une chance de devenir la meilleure version de nous-même....Voici ce que j'ai à offrir pour le plaisir des yeux :Ma plus grande oeuvre ????Ma belle Glamour 36x63 disponible....Je reste toujours prête pour de nouveau défi n'hésitez pas à demander.....
Leave a comment
You must register or login
You must be logged in to like or follow. Please register or login to continue.