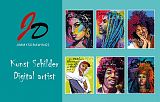 Jimmy van Westering
Arnhem, Netherlands
More artworks by this artist
STYLE
Figurative, Modern, Pop Art, Street Art
Acrylic on canvas. This painting comes with a black wooden frame. Painting and frame are varnished with a satin coating. Painting is provided with a hanging system so it's ready to hang on your wall.
Leave a comment
You must register or login
You must be logged in to like or follow. Please register or login to continue.