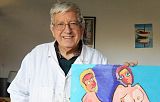 Jérôme Dufay
Crèvecœur-le-Grand, France
More artworks by this artist
STYLE
Contemporary Art, Cubism
Les "hortillons" sont les maraîchers d'Amiens (Picardie -France). Ils furent nommés ainsi par Jules César lors de la conquête des Gaule (52 av. J.). Ce nom leur est resté depuis plus de 2000 ans. Acrylique sur toile. Prix et frais d'envoi : me contacter.
Leave a comment
You must register or login
You must be logged in to like or follow. Please register or login to continue.