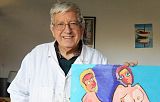 Jérôme Dufay
Crèvecœur-le-Grand, France
More artworks by this artist
STYLE
Contemporary Art, Impressionism
Certificate of authenticity
Yes
Les falaises de Normandie où se déroula le 19 août 1944 le raid anglo-canadien (opération Jubilee). Cette peinture est un hommage aux soldats envoyés au sacrifice sur une bande côtière particulièrement contrôlée par l'armée nazie, et hostile à tout débarquement. Acrylique sur Bois. Oeuvre originale signée. Vient d'être exposée au salon de printemps des Amiens des Arts de la Somme, au château de Bertangles, près d'Amiens. Pour prix et frais d'expédition : me contacter.
Leave a comment
You must register or login
You must be logged in to like or follow. Please register or login to continue.