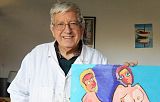 Jérôme Dufay
Crèvecœur-le-Grand, France
More artworks by this artist
Certificate of authenticity
Yes
L'art du nu est pratiqué depuis la nuit des temps, dans toutes les civilisations, sur tous les continents. Le corps humain, féminin ou masculin, est un domaine infini d'inspration, car chacun est un être unique, d'exception. Le corps porte les marques de la vie : souffrance, jeunesse, naïveté, rouerie, bonhommie... érotisme bien sûr. Assidu du Centre d'art de Beauvais (Picardie - France), Jérôme Dufay duspose de plusieurs centaines, voire plus d'un millier de dessins de modèles vivants. Aujourd'hui, il transfère sur la toile ces silhouettes, visages, corps, expressions, livrés au talent des artistes, dans son style particulier qui lui vaut l'intérêt de collectionneurs et d'amateurs d'art contemporain.
Leave a comment
You must register or login
You must be logged in to like or follow. Please register or login to continue.