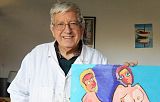 Jérôme Dufay
Crèvecœur-le-Grand, France
More artworks by this artist
Certificate of authenticity
Yes
Ce tableau souligne l'influence cubiste de Jérôme Dufay qui jaillit sur certaines de ses créations. Pour le plasticien, c'est sa façon de rendre hommage à Georges Braque qu'enfant il a eu le privilège de croiser à plusieurs reprises dans son village normand d'Hautot-sur-Mer, limitrophe de Varengeville-sur-Mer où résidait le maître. Ce tableau réunit trois des éléments : eau, terre et air. L'eau est celle de la mer du littoral de la Manche, en Pays-de-Caux. L'air enveloppe l'atmosphère. La terre se présente sous la forme minérale de galets provenant des falaises côtières. Le nombre quatre, est s symbole de la construction, de la réalisation, du concret, de l'ordre, de la stabilité, de l' organisation mais aussi de l'intransigeance. Autant de qualités et de valeurs qui s'imposent au monde des marins pour affronter l'élément "mer" dans les meilleures conditions de sécurité, en tout circonstance.
Leave a comment
You must register or login
You must be logged in to like or follow. Please register or login to continue.