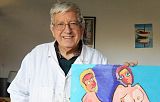 Jérôme Dufay
Crèvecœur-le-Grand, France
More artworks by this artist
STYLE
Contemporary Art, Expressionism
Certificate of authenticity
No
Huile sur panneau de bois contreplaqué. Signé. Authentifié. Expédition France Métropole et Belgique : GRATUIT Expédition France Outre-Mer et autres pays sauf Belgique : selon devis du transporteur.
Leave a comment
You must register or login
You must be logged in to like or follow. Please register or login to continue.