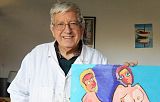 Jérôme Dufay
Crèvecœur-le-Grand, France
More artworks by this artist
Certificate of authenticity
Yes
Selon la mythologie grecque, les Hespérides, filles du Titan Atlas, sont les gardiennes d'un jardin merveilleux situé dans une région mal connue d'eux et qui serait le mont Atlas en Afrique du Nord. Le Titan Atlas pour avoir défié les dieux lors du combat qui les opposa a été condamné par Zeus à supporter la voûte céleste éternellement sur ses épaules. Dans ce jardin au milieu des fleurs, des arbres et des fruits splendides, se trouve un pommier qui porte des fruits en or. Cet arbre est le cadeau que Gaïa, la Terre, a fait à Héra à l'occasion de son mariage avec Zeus. Pour plus de sûreté Héra ajoute au Titan et à ses filles un gardien supplémentaire : le dragon Ladon. L'emplacement du jardin est inconnu des mortels. Héraclès reçoit l'ordre de rapporter à Mycènes trois pommes d'or. C'est le onzième de ses Douze travaux. Selon les auteurs et les versions, les Hespérides étaient trois, mais parfois quatre... Jérôme Dufay les représentent donc en quatuor. D'après photo N. Lauffenburger.
Leave a comment
You must register or login
You must be logged in to like or follow. Please register or login to continue.