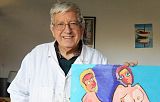 Jérôme Dufay
Crèvecœur-le-Grand, France
More artworks by this artist
STYLE
Contemporary Art, Cubism
La gorge de Mordal est située en Normandie, près de Dieppe, au sud-Ouest de la plage de Pourville-sur-Mer. C'est une brèche naturelle entre deux falaises. Pendant très longtemps, et jusqu'au année 1970, les pêcheurs locaux y entreposaient leurs filets, les équipements et parfois les embarcations légères.
Leave a comment
You must register or login
You must be logged in to like or follow. Please register or login to continue.