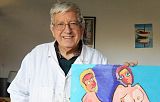 Jérôme Dufay
Crèvecœur-le-Grand, France
More artworks by this artist
Certificate of authenticity
Yes
Ce tableaux est un hommage à tous les miséreux de la Terre, rejetés, ignorés, méprisés, dans l'extrême pauvreté. C'est ainsi qu'ils sont désignés en France par le mots "gueux". Ils furent moqués par un certain président de la République qui parlait d'eux sous le vocable de "sans dents". Depuis plusieurs années, à Montpellier, un "Karnaval des Gueux" est organisé dans la pure tradition des carnavals populaires du Moyen-âge où, le jour de Mardi-Gras, il était permis de blasphémer et de railler le souverain ou le seigneur de la contrée. Régulièrement, ce carnaval des Gueux de Montpellier (France) fait l'objet d'interdictions municipales et d'affrontements avec les forces de l'ordre. Les Gueux dérangent les bonnes consciences. Jérôme Dufay, peintre normand, les représente ici sous forme de masques aux sourires édentés, sous une pluie de confettis.
Leave a comment
You must register or login
You must be logged in to like or follow. Please register or login to continue.