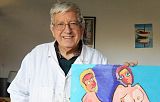 Jérôme Dufay
Crèvecœur-le-Grand, France
More artworks by this artist
STYLE
Contemporary Art, Expressionism, Impressionism
Dans une version stylisée : l'assaut de la mer sur les falaises normandes, dans la région de Dieppe (France). Expédition en France métropolitaine et Belgique : GRATUIT Expédition en France Outre-Mer et autres pays : expédition à la charge de l'acheteur, selon devi du transporteur.
Leave a comment
You must register or login
You must be logged in to like or follow. Please register or login to continue.