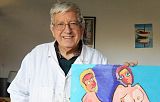 Jérôme Dufay
Crèvecœur-le-Grand, France
More artworks by this artist
Nu féminin depuis modèle vivant, sur un fond de plage. Aquarelle sur papier Canson. Oeuvre originale, signée, non encadrée. Disponible sur demande. Prix et frais d'expédition : me contacter.
Leave a comment
You must register or login
You must be logged in to like or follow. Please register or login to continue.