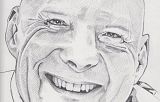 Jean Saint-Germain
Québec, Canada
More artworks by this artist
Certificate of authenticity
No
je décompose mon modèle avec des formes géométriques dans le but de créer des fenêtre ou seule certaine partie du corps sont vue, apportant ainsi une dynamique et un coup d'œil autre au personnage.
Leave a comment
You must register or login
You must be logged in to like or follow. Please register or login to continue.