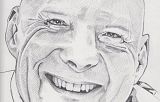 Jean Saint-Germain
Québec, Canada
More artworks by this artist
Certificate of authenticity
Yes
La peinture est mélangé à du vernis brillant et de la pâte pour augmenter sa luminosité et sa densité. L'or et le jaune représente la lumière, les couleurs foncées le décor du fond, le reste, les fleurs et les feuilles...
Leave a comment
You must register or login
You must be logged in to like or follow. Please register or login to continue.