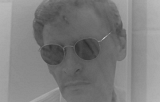 James Brondolo
Vitrolles, France
More artworks by this artist
Certificate of authenticity
Yes
Photographie abstraite montrant un futur Apocalyptique , dans un fatras de branches brulées, écrassées l'Homme ne peut rien il doit faire face à une forme singulière qui peut ëtre est celle de sa conscience . Le traitement noir et blanc dont le contraste est accentué sur le personnage accentue le ton dramatique de sa situation.
Leave a comment
You must register or login
You must be logged in to like or follow. Please register or login to continue.