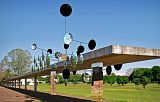 JACQUELINE BELOTTI
Rio de Janeiro, Brazil
More artworks by this artist
Motionless Journey "is an intervention in the landscape of Brasilia, Brazil, with round, convex and flat mirrors in various diameters, superimposed on the marquee of the Funarte building. The work creates a succession of views rhythmic by elements of landscape and architecture to build trajectories for the look. Pure passage, pure becoming, small contact between worlds, pure mirage of those who contemplate the earth. Installation. Funarte Award for Contemporary Art 2015 Motionless Journey, intervention in the marquee of Funarte, Brasilia, Brazil, 2015. Methacrylate mirrors and metal structure.
Leave a comment
You must register or login
You must be logged in to like or follow. Please register or login to continue.