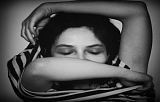 Ivana Kalezic
Belgrade, Serbia
More artworks by this artist
Work belongs to the series of called Hortus Bestiarium with reference on 17th century illustration of flowers, plants and strange objects, shells, leaves, fossils etc. My inspiration also devolves from baroque period theme Cabinet of Curiosities. Series is done precise, with thin pen and calligraphy inks and counts minimum 10 pieces, black and white and in color too.
Leave a comment
You must register or login
You must be logged in to like or follow. Please register or login to continue.