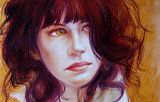 Isabel Mahe
Paris, France
In Gallery
More artworks by this artist
STYLE
Expressionism, Figurative, Impressionism, Modern, Realism
Certificate of authenticity
Yes
This portrait is painted alla prima. The model is a pretty girl... She's a teenager of our time, enjoying to appear annoyed: So spoiled by Mother Nature that she cannot content herself with few. Luckily, that makes her so seductive, that I consider her with tenderness. It was a great sunny winter day. Cold outside, warm indoors. I set her in the "plein air" of my workshop, in front of the window, the light coming from left (I'm right handed). She left her hair mussed. The session lasted less than three hours long.
Leave a comment
You must register or login
You must be logged in to like or follow. Please register or login to continue.