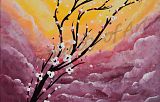 Iris Forbes
Webster, United States
More artworks by this artist
STYLE
Contemporary Art, Surrealism, Other styles
Ready to Hang (wire attached/unframed) (Painted on edges) This piece is created in acrylics, on cotton stretched, deep edge canvas. It's finished in a clear satin varnish to protect from debris, smoke, fingerprints, smudging, fading over time and protection from uv light.
Leave a comment
You must register or login
You must be logged in to like or follow. Please register or login to continue.