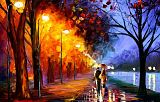 httpsafremovcom
Quintana Roo, Mexique
More artworks by this gallery
Certificate of authenticity
Yes
ORIGINAL ARTIST
Leonid Afremov
Le tableau est clairement divisé en deux parties. Une partie est bleuâtre et l'autre est jaune et brillante. Lac bleu et ciel bleu contrastent la ruelle avec ses couleurs vives de l'automne. La ruelle devient la frontière qui les sépare distinctement. La vie est diversifiée. Il n'y a pas que des jours heureux ou tristes. Ils se changent. Après la pluie, le soleil brille toujours. Alley devient une consolation pour ce couple lorsque l'humeur est déprimante et qu'ils s'attendent à des changements dans la vie. La nature leur donne le pouvoir de surmonter les ennuis de la vie. Les endroits que nous aimons nous donnent de l'énergie. Les gens peuvent aimer: De vieux vêtements qui rappellent certaines occasions. Vieux batiments. Même ceux qui n'ont pas de valeur historique semblent attrayants pour les gens et ils ne veulent pas les détruire. Des vieux films qui rappellent certaines périodes heureuses du passé. Les vieux endroits sont comme de vieux souvenirs. Le lien entre la mémoire et le lieu est évident. La mémoire fait partie de la conscience qui détermine notre vie. Cela signifie que la mémoire est également capable de le faire.
Leave a comment
You must register or login
You must be logged in to like or follow. Please register or login to continue.