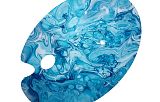 Guylaine Comtois
Montréal, Canada
More artworks by this artist
Certificate of authenticity
Yes
Création spontanée représentant mon amour pour les bateaux, la mer et mon conjoint qui est un marin dans l'ame ! La vie en rose représente également les rêves les plus fous de partir découvrir le monde en vivant sur un voilier accompagné du Bonheur parfait !!!
Leave a comment
You must register or login
You must be logged in to like or follow. Please register or login to continue.