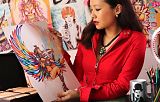 More artworks by this artist
MEDIUM
Pencil, Ink, Pastel
"Temptation" February 14th 2017 (Temptation of the opposite side/Temptation of the same gender. I wanted to reconcile good with evil and by this way homosexual with homophobic people too. No propaganda, no vulgarity, no offense, but just beauty, tolerance and freedom) - Warrior's Soul. Unleashing the Warrioress Within.
Leave a comment
You must register or login
You must be logged in to follow. Please register or login to continue.