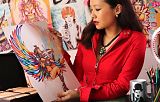 More artworks by this artist
MEDIUM
Crayon, Ink, Pastel
"Lady Dragon" August 18th 2016 - Glam/Trash "Colors of my Soul" (Full collection restored in 2018). Born in summer 2016, from a desire to improve myself, to make something different and to impose my own style and vision... Glam/Trash highlights a more mature, detailed, neat and spiritual work, probably the "coolest" reflection of me. It pays tribute to strong and proud women with a fierce femininity, slaying through a colored and provocative universe which involves and plays with contradictions and paradox.
Leave a comment
You must register or login
You must be logged in to follow. Please register or login to continue.