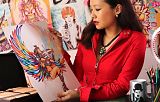 In Gallery
More artworks by this artist
MEDIUM
Pencil, Ink, Pastel
Tribute to Charlie Chaplin . Double portrait of Sir Charles Spencer Chaplin, representing the gentleman contrasting with the tramp, in a fanciful and cinematic background crowned with his 3 Oscars.
Leave a comment
You must register or login
You must be logged in to like or follow. Please register or login to continue.