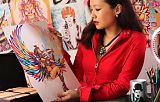 More artworks by this artist
STYLE
Manga, Realism, Other styles
MEDIUM
Crayon, Ink, Others
"Respect Flora and Fauna, Protect Flora and Fauna" Ma contribution osée et sensuelle qui pourrait peut être, d'une autre manière, faire prendre conscience/faire tomber amoureux de la beauté, du charme et de la richesse de Dame Nature, représentée ici par deux entités fantastiques et féminines (Flora=la flore / Fauna= la faune) n'en formant plus qu'une seule par leur union et leur baiser. Mon but étant de transmettre (au delà de leur beauté/sensualité) cette même tendresse et cette même passion qui les animent et qui les unies, aux personnes pour qu'elles puissent être elles aussi à leur tour habitées par ces mêmes ressentis et aller dans leur sens. C'est à dire, lutter pour l'amour et la préservation de la Nature, et y trouver ce même plaisir et cette même beauté en y renforçant sa protection, sa défense et en lui redonnant le respect, l'admiration qu'Elle mérite. En effet de donner aux personnes l'envie de préserver sa fertilité, sa diversité et sa grandeur, ses magnifiques richesses qui sont nos plus beaux et nos plus grands trésors. Par la même occasion soutenir la communauté LGBT qui a aussi droit au respect et à l'égalité, en représentant deux femmes s'embrassant et se touchant avec fougue et passion de manière plus ou moins provocante pour attirer le regard et assumer, revendiquer leur nature profonde. Sans oublier les couleurs de l'arc en ciel, omniprésentes et surtout en fond de décor (forêt enchantée), couleurs qui symboliquement sont représentatives du drapeau gay. À rappeler que les thèmes du dessin sont ceux de la Nature et de la communauté LGBT, j'avais envie de faire un mélange parfait entres ces deux notions "nature" et "gay" pour rappeler qu'être gay est tout à fait naturel et qu'il pouvait même y avoir du beau et du mystique. J'ai aimé être inspirée de ce dont pourquoi je me bat et de ce dont je suis dévouée. L'amour et la passion que j'éprouve à m'exprimer à travers l'Art peuvent se ressentir dans chacune des courbes et couleurs. Rien n'est laissé au hasard, chaque détail a sa signification et chaque couleur est à sa place. My daring and sensual contribution which could, in another way, raise awareness about/make fall in love with the beauty, the charm and the wealth of Mother Nature, represented here by two fantastic and feminine entities (Flora and Fauna) making one by their union and kiss. My aim is to spread (beyond their beauty/sensuality) this same tenderness and this same passion which animate and unite them, to the people for being as well indwelt by the same feelings and going their way. Which means, fighting for the love and the preservation of Mother Nature, and to find the same pleasure and the same beauty by strengthening her protection, her defense and giving back her respect, and the admiration She deserves. Indeed to give people the desire to preserve her fertility, her diversity and her greatness, those magnificent riches which are our most beautiful and greatest treasures. By the same way support the LGBT community which has the right for respect and equality, representing two women kissing and touching each other with ardor and passion with a more or less provocative way to attract attention and to assume, to claim their true nature. Without forgetting the rainbow's colors, omnipresent and mainly at the background (enchanted forest), colors which are symbolically representative of the gay flag. Remember the themes of the drawing are Nature and LGBT community, I wanted to make a perfect mixture of the two notions "Nature" and "gay" to remind that being gay is absolutely natural and can even has something beautiful and mystical. I have loved being inspired by what I'm fighting for and what I'm devoted to. The love and the passion I feel in expressing myself through Art can be perceived in every shape and in every color. Nothing's left to chance, every detail has its signification and every color is at its own place.
Leave a comment
You must register or login
You must be logged in to like or follow. Please register or login to continue.