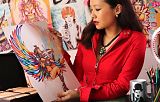 More artworks by this artist
MEDIUM
Crayon, Ink, Pastel
"Bonnie And Clyde" August 26th 2017 (We ride together/We die together. I wanted to pay tribute to my favorite legendary criminal couple, making a glam/punk version of them. Young lovers united by a criminal passion and a tragic fate. Heroes or villains, they still fascinate) - Warrior's Soul. Unleashing the Warrioress Within.
Leave a comment
You must register or login
You must be logged in to follow. Please register or login to continue.