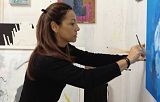 Graça Tirelli
Porto Alegre, Brazil
More artworks by this artist
STYLE
Contemporary Art, Figurative, Modern
Certificate of authenticity
Yes
My artistic process was to show the resilience capacity of these children through symbols that signify hope and rescue from a lost childhood. I explore the child's symbolic universe, the territory of playing as art, as growth, as communication, as exchange, as development, as culture, as history, as its own and shared language.
Leave a comment
You must register or login
You must be logged in to like or follow. Please register or login to continue.