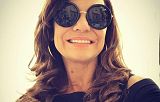 Graça Tirelli
Porto Alegre, Brazil
More artworks by this artist
STYLE
Contemporary Art, Figurative, Modern, Pop Art, Street Art
where I seek the identity of a culture that changed the structure of a society. The use of technology, representative symbols of music, fashion; as a dynamic factor of a globalized society and structured in consumption and image. Was inspired by store windows selling t-shirts, buttons, skateboards. Syncretizing with the iconoclastic image of the music, band logos, and our fascination to record images incessantly with our cell phones and machines groups of young people in search of identity, using these cultural devices and personal appreciation.
Leave a comment
You must register or login
You must be logged in to like or follow. Please register or login to continue.