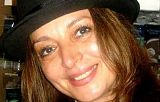 Gordana Elliott
Zollikon, Switzerland
More artworks by this artist
CATEGORY
Textile and Fiber Art
Hand made with Italian fashion style leather, Miyuki beads, 23 carat real gold plated clasp and Baltic amber. Since remote times, the beauty of Baltic amber was attracting attention. Amber jewelry is a treasure to own, for centuries was worn only by nobility and not affordable to the masses. It is fashionable and soaring in popularity even today. Amber jewelry balances person's mood, pleases the eye, lessens depression. The length of the bracelet is adjustable. Shipping included in the price.
Leave a comment
You must register or login
You must be logged in to follow. Please register or login to continue.