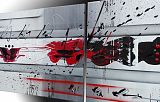 Goartdeco Goartdeco
Denain, France
More artworks by this artist
Ce tableau intitulé "Summer color" est un modèle authentique fait main, le support est une toile 3D très moderne par son format et la multitude de configurations possibles en fonction de votre gout. Très coloré il garantit un effet design et épuré de votre intérieur.
Leave a comment
You must register or login
You must be logged in to like or follow. Please register or login to continue.