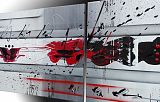 Goartdeco Goartdeco
Denain, France
More artworks by this artist
Ce tableau intitulé "Burn" est un modèle unique peint à la main, très moderne par son contraste de couleurs contemporaines et son format panoramique, il garantit un effet design dans votre intérieur.
Leave a comment
You must register or login
You must be logged in to like or follow. Please register or login to continue.